Santa Fe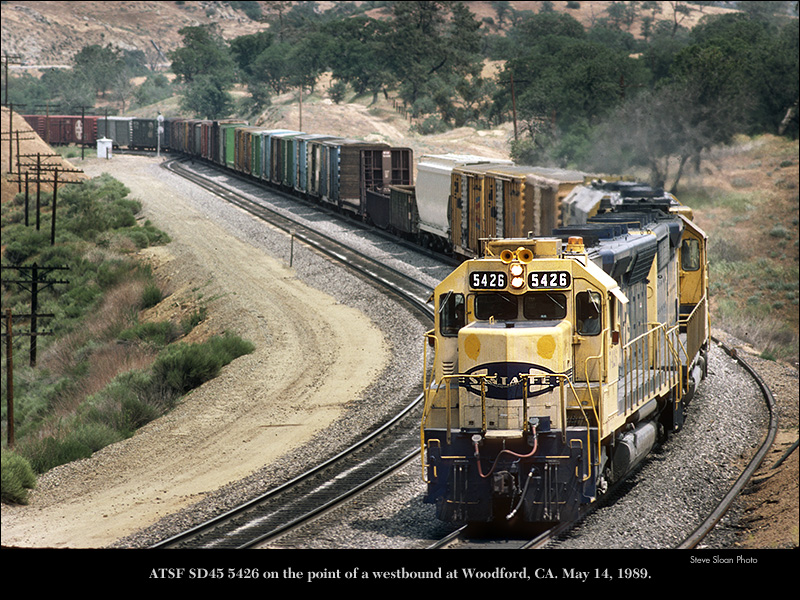 I hope you enjoy these photos as much as I enjoyed taking them.
ATSF locomotives 1-5624
Click on the following links to see pictures related to the Santa Fe:
347C is an F7A built as 39C, later 306B for Amtrak lease. This locomotive was donated to California State Railroad Museum along with 347B. The 347B is an F3B built as 35A, later 307B for Amtrak lease.

In June 2003 I was on a bicycle tour called the Sierra to the Sea. The tour passed through Sacramento. On Tuesday, June 17, 2003 ATSF F7A 347C was parked with F3B 347B outside the California State Railroad Museum on Front St., in Sacramento, CA. It is parked on dual gauge street trackage.
Nose Side Angle | A&B units | A Unit Closer | Headon showing dual gauge track.
Nikon E2000 Digital Image: 2004021603.100 | 2004021603.101 | 2004021603.102 | 2004021603.103

ATSF S2 2329 in 1973 at Pittsburg, CA.
Image 2009110601_0008, Photo Location Map
ATSF GP35 2942 leads a consist of GP35s, GP30s and GP39-2s on the point of a westbound at Walong, CA. May 14, 1989. Other engines identified here include the 2765, 2700 and the 3447.
Kodachrome Slide 890071, Scan 2010091901_002
In 1975 ATSF GP35 3326 is all decked out in pinstripes at Port Chicago.
I wish I knew more about this photo. It was apparently taken in late 1973 when 4572 was in a power pool with sister 4564.
Neg 024109, Scan 2010030101_01
Santa Fe SD26 4654 and friends are westbound climbing the east side of Cajon Pass on August 11, 1975. About this photo George Andrews said, "The lead SD26 was only 10 months out of its' rebuild in San Bernardino shops. This train, a Westbound by timetable direction, is between Lugo & Summit, CA."
ATSF 5057 an SD40-2 on the point of a westbound east of Woodford, CA on May 14, 1989.
Kodachrome Slide 890074, Scan 2010091801_002

ATSF 5257 EMD SDF40-2

According to this site: Built as Amtrak SDP40F 622; acquired 9/84, Amtrak markings removed; reblt 3/85 to SDF40-2 5257; maintenance transferred 4/94 to MK. rnum to BNSF 6967, ret May02 [Source]
ATSF SD45 5426 on the point of a westbound at Woodford, CA. May 14, 1989.
Kodachrome Slide 890086, Scan 2010091801_001
ATSF 5432 EMD SD45
ATSF 5432 near Woodford

ATSF SD45 5432 leading a 199 train at around MP350 east of Woodford on May 14, 1989.
Santa Fe SD45 being hostled in Barstow, CA on August 11, 1975.
Related Links
Click on the following links to see other posts related to this story:
My collection of Santa Fe photos in Flickr.

Special Thanks

All the great folks who helped me out with information for these Web pages!


This work is licensed under a Creative Commons Attribution-NonCommercial-NoDerivatives 4.0 International License.